Who is this amazing writer?
KATIE MCGARRY was a teenager during the age of grunge and boy bands and remembers those years as the best and worst of her life. She is a lover of music, happy endings, and reality television, and is a secret University of Kentucky basketball fan.
Katie would love to hear from her readers. Contact her via her website, katielmcgarry.com, follow her on Twitter @KatieMcGarry, or become a fan on Facebook and Goodreads
---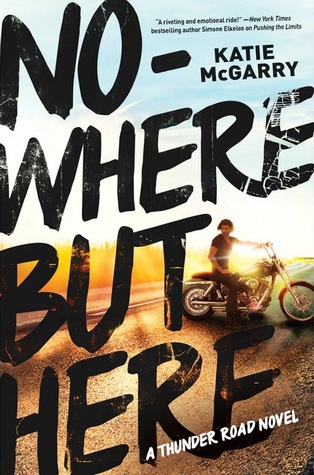 An unforgettable new series from acclaimed author Katie McGarry about taking risks, opening your heart and ending up in a place you never imagined possible.
Seventeen-year-old Emily likes her life the way it is: doting parents, good friends, good school in a safe neighborhood. Sure, she's curious about her biological father—the one who chose life in a motorcycle club, the Reign of Terror, over being a parent—but that doesn't mean she wants to be a part of his world. But when a reluctant visit turns to an extended summer vacation among relatives she never knew she had, one thing becomes clear: nothing is what it seems. Not the club, not her secret-keeping father and not Oz, a guy with suck-me-in blue eyes who can help her understand them both.
Oz wants one thing: to join the Reign of Terror. They're the good guys. They protect people. They're…family. And while Emily—the gorgeous and sheltered daughter of the club's most respected member—is in town, he's gonna prove it to her. So when her father asks him to keep her safe from a rival club with a score to settle, Oz knows it's his shot at his dream. What he doesn't count on is that Emily just might turn that dream upside down.
No one wants them to be together. But sometimes the right person is the one you least expect, and the road you fear the most is the one that leads you home.
When can you get your hands on this book?!
May 26th 2015
---
My interview!
1.) During your research for your new book, did you find you have a favorite bike?
Yes! While writing Nowhere But Here, I fell in love with Harley Davidson's Softail. I also have to say I fell in love with the bikes that had ape handlebars.
2.) What were positives and negatives during your research for your book?
While writing Nowhere But Here, I had the fabulous opportunity to hang out with a motorcycle club. The positives–endless. I met some of the most amazing men and woman at this clubhouse. What impressed me the most is how even though the members are not blood related, they shared this incredible bond. They loved and treated each other like family.
Clubhouse life is a bit different than my life. There were times that I saw something that might have made my cheeks turn red or caused my mouth to gape. But overall, it was a once in a lifetime, amazing experience.
3.) What question have you always wanted to be asked in an interview? How would you answer that question?
Tell us your favorite moment when you were a teen with your best friend:
Playing endless hours of Crazy 8's. My best friend had a genetic disease which often caused her to be in pain and she would stay in bed. I hated when she was in pain, but I enjoyed the hours and hours and hours we would spend reading teen magazines in bed and playing Crazy 8's.
I loved my best friend and I miss her terribly.
Thank you Kate again for this interview!