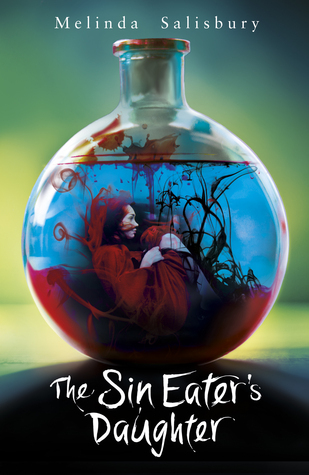 I am the perfect weapon.
I kill with a single touch.
Twylla is blessed. The Gods have chosen her to marry a prince, and rule the kingdom. But the favour of the Gods has it's price. A deadly poison infuses her skin. Those who anger the queen must die under Twylla's fatal touch.
Only Lief, an outspoken new guard, can see past Twylla's chilling role to the girls she truly is.
Yet in a court as dangerous and the queen's, some truths should not be told…
---
Melinda Salisbury lives by the sea, somewhere in the south of England. As a child she genuinely thought Roald Dahl's Matilda was her biography, in part helped by her grandfather often mistakenly calling her Matilda, and the local library having a pretty cavalier attitude to the books she borrowed. Sadly she never manifested telekinetic powers. She likes to travel, and have adventures. She also likes medieval castles, non-medieval aquariums, Richard III, and all things Scandinavian The Sin Eater's Daughter is her first novel. She can be found on Twitter at @AHintofMystery, though be warned, she tweets often.
---
  My interview 🙂
What's the best thing about being an author?
It sounds really trite, but one of the best things in my life these days (though not because I'm an author) is getting to talk to other authors, and bloggers, and fans and readers, so often. I think a fair few readers, spend, or have spent, a lot of time feeling isolated and alone, so getting to be part of this entire community of people who also love reading is incredible! The Internet has gone a huge way in making it possible, and I love that I can see recommendations and discussions and thoughts and feelings across social media from readers who are as passionate and excited about books as I am.
But that moment when someone tells you they like your book is priceless. Utterly priceless. That's the hands-down best thing about being an author, the feeling that your book did for one reader what so many books have done for you.
If you could meet a author dead or alive who it would it be?
J.K. Rowling. She's my absolute idol. I met her for a moment at the The Casual Vacancy launch at the Southbank Centre, but I'd love to sit down with her and share a bottle of wine, and just talk to her. I think she's a gifted writer, incredible humanitarian and an absolute role-model. She's made a huge difference to my life with her books, and I'd love to tell her so in a way that wasn't me blurting 'Thank you!' and then staring maniacally at her.
Do you have any book recommendations?
Hmmm… No. I can tell you some books that I love lots and lots, but as for recommending them? It's too personal, books are too personal, so I'll leave it up to you to read the blurbs and see if any take your fancy. I try and only recommend books to people I know very, very well, purely because books are very subjective and what sings to one person will not resonate with another.
Because of that I don't read reviews of books before I've read them myself. If I like the sound of a premise, I'll give the book a try, it's that simple. And whether I like a book or not depends on the phase of a moon, what I've just read, how tired I am, what mood I'm in, whether I'm hungry, what country it's set in – there is no precise calculation, and I assume it's the same for everyone. I read reviews for hotels and restaurants before I go there, because I like to know if they're safe and clean but I don't need to know that about books. Afterwards, I'll read reviews if I felt particularly strongly, but before that I like to go in fresh, and give the book a totally clean slate to work with.
With that in mind, some books I love a lot include:
Ali Shaw's The Girl With Glass Feet
Erin Morgenstern's The Night Circus
Eowyn Ivey's The Snow Child
Leigh Bardugo's Grisha Trilogy
Kazuo Ishiguro's Never Let Me Go
Susanna Clarke's Jonathan Strange and Mr. Norrell
Alexi Zentner's Touch
Scott Lynch's The Lies of Locke Lamora
All of the Harry Potter books
Fangirl by Rainbow Rowell
Anna and the French Kiss by Stephanie Perkins
The Snow Spider trilogy by Jenny Nimmo
The Brides of Rollrock Island by Margo Lanagan
Miss Smilla's Feeling for Snow by Peter Hoeg
The Merman by Carl-Johan Vallgren
Burial Rites by Hannah Kent
The Magicians by Lev Grossman
Tell the Wolves I'm Home by Carol Rifka Brunt
The Scorpio Races by Maggie Stiefvater
Dark Matter by Michelle Paver.
Basically, I like stories set in cold places, or with magic in. Preferably both.
What is your favorite Jeff Goldblum movie? Mine is Lost world 🙂
Hands down Jurassic Park. That table scene. That cocky smile. That clever, terrible, tricksy brain. That leather jacket. He's perfection in it.
Jenny- I so agree 🙂
What question have you always wanted to be asked in an interview? How would you answer that question?
If I could use Polyjuice potion, who would I choose to be? And I would answer it by choosing to be the current Prime Minister, for as long as it took to sort out the education, healthcare and social financing in the UK. I'd start by cutting politician's perks and putting the funding back into public libraries and youth services. Then I'd tackle state education, then healthcare. I'd level the playing field as much as I could.
Jenny- I had so much fun with this interview, thank you so much again!